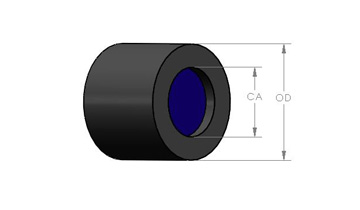 Band Pass Interference Filters
These types of filters are used to pass certain narrow wavelength bands with high transmission and block unwanted light. The pass band can be very narrow such as 10nm or very wide depending on your specific application. Rejection bands are deeply blocked with OD from 3 to 5 or above.

Our line of products covers wavelength ranges from the ultraviolet to near infrared, including many types of primary laser, biomedical and analytical spectral lines. The filters are mounted in black anodized metal rings.
Don't see what you need? Request custom optics.